Everything You Need to Know About Flat Tire Repair Kits
July 16th, 2020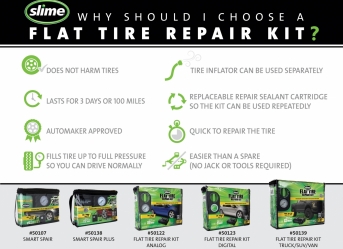 Flat Tire Repair Kits are disrupting the world of flat tire repair as we know it. Easy to use and quick to get you back on the road, Flat Tire Repair Kits are quickly replacing the spare tire. In fact, 1 in 3 new cars don't even come with a spare tire anymore. They come with (you guessed it!) a Flat Tire Repair Kit!
Are you new to the world of Flat Tire Repair Kits? Don't worry, Slime has you covered. Check out our special Flat Tire Repair Kit destination, with everything you need to know about these compact, powerful kits. The site includes videos, benefits, comparison charts, and more!
Click here to learn more about Flat Tire Repair Kits and find the perfect kit for your car type and repair style.